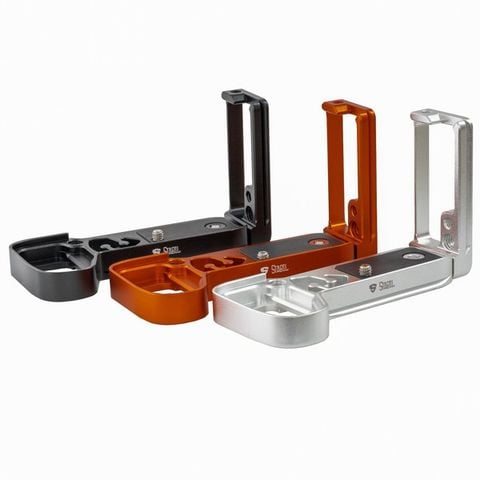 2019 Stabil LSIII - L Plate (Bracket) for Sony A7RIII; A7III & A9 - New Design
Thương hiệu:
Stabil
https://goo.gl/MszPTN

Đế máy ảnh L Plate cho Sony A7RIII; A7III & A9
2019 Stabil LSIII - Thiết kế mới
---
Đế máy ảnh L Plate Stabil LSIII được thế chuyên biệt cho Sony A7RIII; A7III & A9 làm chính xác bằng hợp kim nhôm T6-6061. Đế máy ảnh LSIII được thiết đặc biệt vừa khít với thân máy cùng mới lớp đệm mềm giữa LSIII và thân máy nên hạn chế sự dịch chuyển tối đa, chống trầy và tạo độ vững chắc hơn. Ngàm kết nối dựa theo tiêu chuẩn Arca phổ biến nhất hiện nay, có thể lắp thuận tiện theo chiều ngang lẫn chiều đứng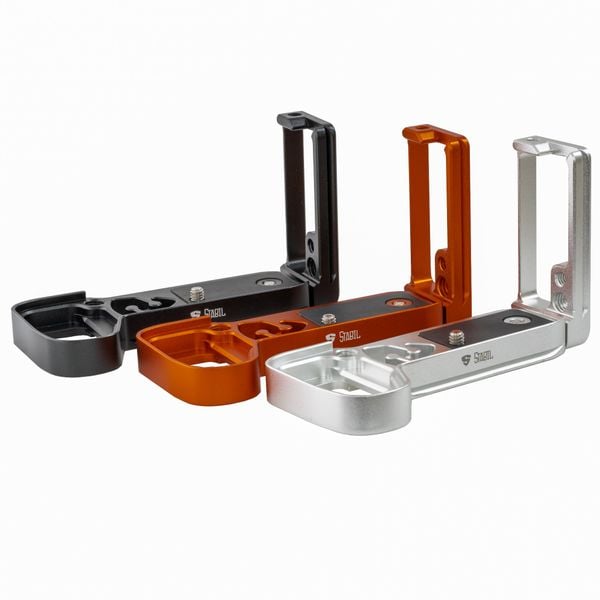 Thiết kế chuyên biệt cho thân máy Sony A7RIII, Sony A7III, Sony A9 camera
Gia công bằng hợp kim nhôm máy bay và anode hóa màu sắc trên bề mặt
Kết cấu khi xoay máy đứng rất chắc chắn
Màn hình xoay lật không cần tháo gá đỡ
Cạnh hông có thể di chuyển rời ra để thao tác kết nối dễ dàng hơn
Trang bị các kết nối ren tiêu chuẩn 1/4"-20 và 3/8"-16 ở dưới đáy và bên hông để lắp thêm phụ kiện
Kết cấu nam châm cài đặt chìa khóa dính trên L plate
Tương thích với ngàm theo tiêu chuẩn Arca-Swiss
Ốc chuyển đổi lỗ kết nối 1/4"-20 và 3/8"-16 theo nhu cầu sử dụng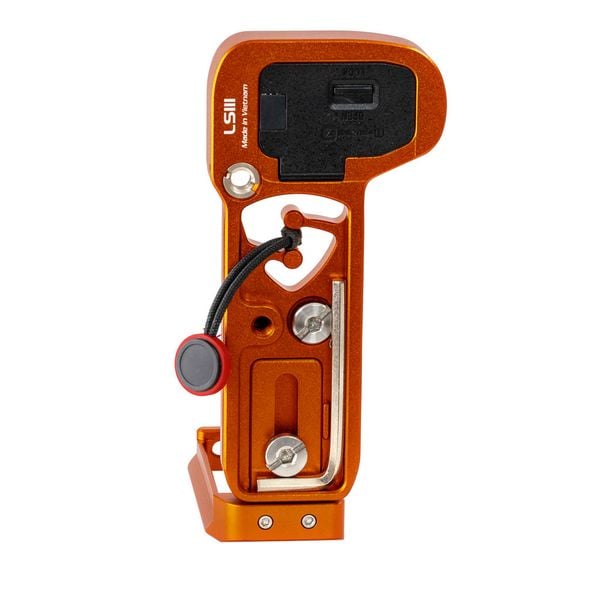 Đế LSIII được thiết kế để màn hình có thể xoay lật mọi vị trí, dễ dàng lấy pin tương tự như bản gốc, có lỗ ốc tiêu chuẩn 1/4"-20 và 3/8"-16 (có thể chuyển thành 1/4"-20) ở dưới đáy và bên hông, có đánh dấu vị trí tâm cảm biến (sensor) ở cả hai chiều ngang và đứng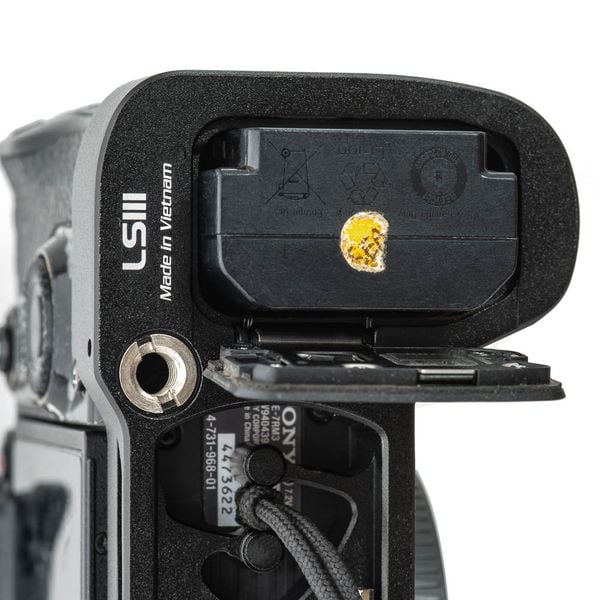 Stabil LSIII L plates are all custom designed for Sony A7RIII, A7III & A9 camera body and precision machined from solid blocks of 6061-T6 aluminum. Stabil LSIII L plates feature precisely contoured anti-twist flanges for a perfect fit that prevents twisting between the camera and L plate with soft matterial. With its Arca-type compatible dovetail, it enables the camera to mount in a vertical or horizontal position.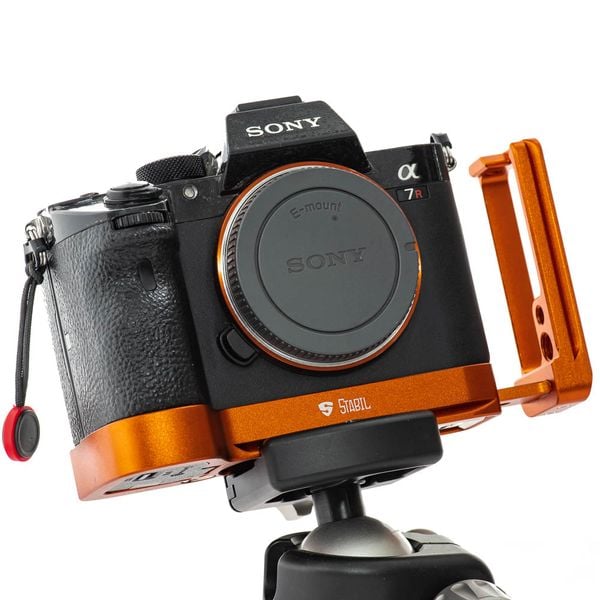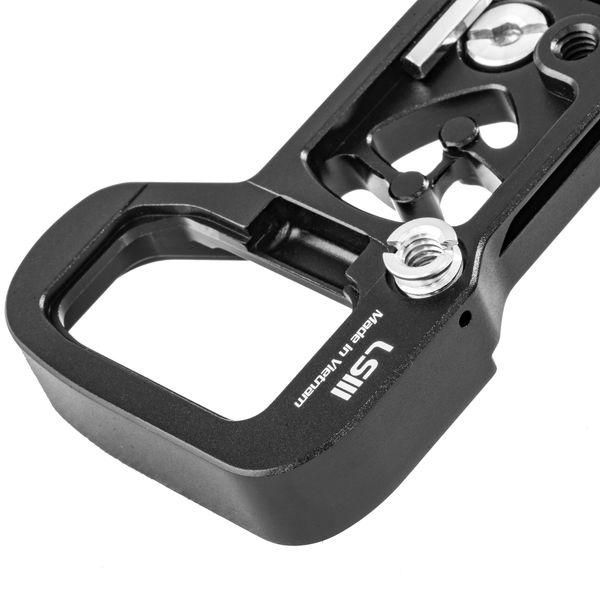 The Stabil L plate LSIII does not block the LCD monitor from tilting, it easy access to the battery door as original design, a 1/4"-20 and 3/8"-16 (can be convert to 1/4"-20) mounting hole is located on the bottom and sensor centering lines are on the back, so the camera can be aligned on a tripod head.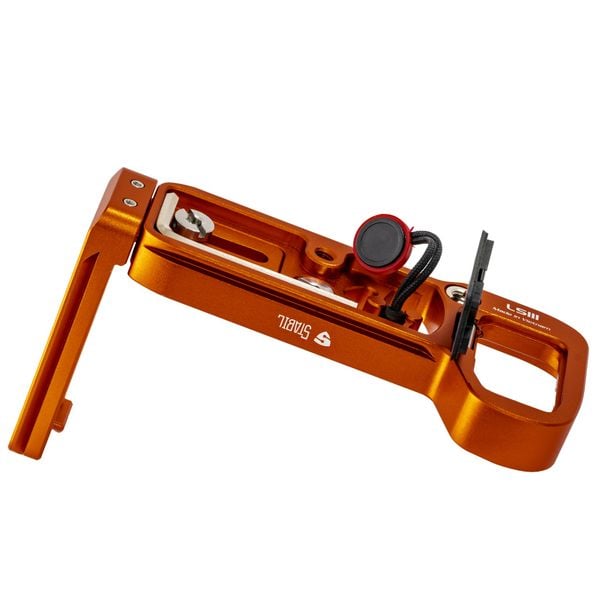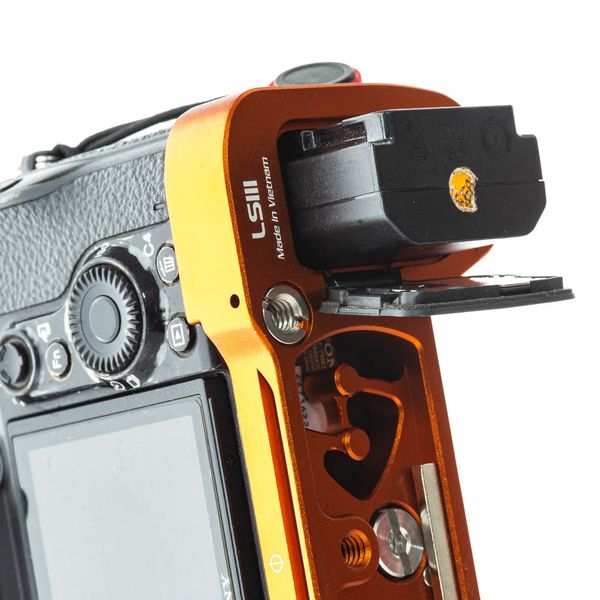 Custom fit with dedicated design for Sony A7RIII/ A7III/ A9 camera
Made of aviation aluminum alloy which has been anodized Stable construct when change to vertical orientation
Free moving monitor without remove L plate
Vertical part can be slide out for more flexible connection
Extra 1/4″-20 and 3/8"-16 hole for extension equipment.
Built-in Magnetic Allen Wrench Holder
Compatible with other major manufacturers' Arca-Swiss style and Cullmann clamps
Interchange 1/4″-20 and 3/8"-16 screw for flexible conecction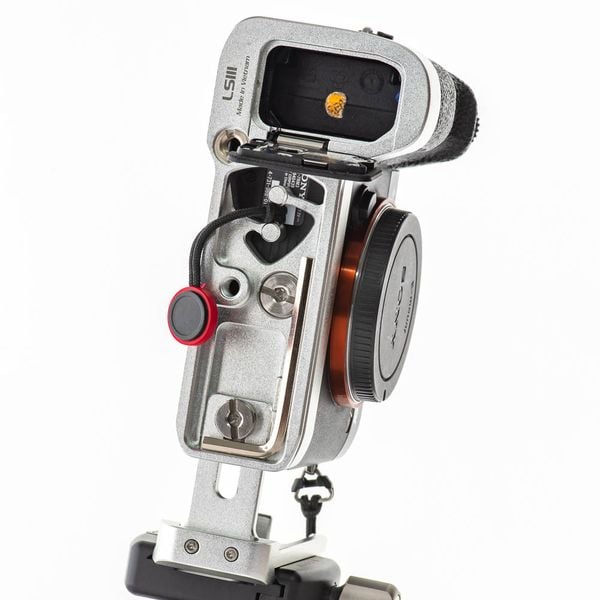 https://youtu.be/Mvz-MLbcIeI
ĐÁNH GIÁ/REVIEWS
Exactly what I expected-Collin - 02/07/2020 12:03:28 PM
"Exactly what I expected. Also the color matches the ring on the A7 perfectly!"
Chất lượng-nguyen Nguyen - 05/07/2018 09:13:53 AM
SẢN PHẨM TỐT
Excellent fit!-Michael Incorvati - 30/10/2018 01:40:26 AM
This product was well worth the wait for delivery from Vietnam. The L bracket came without the required camera screw (easily fixed with a purchase on Amazon). But the fit and finish is excellent. I shoot timelapse and long exposure night photography so the ability to slide the bracket out to allow for access for charging and intervalometer is great. It was very hard to find something that would work for my needs.
Excellent fit and appearance on my A7iii!-Steve - 28/01/2019 13:45:08 PM
The bracket fit Perfectly on my A7iii. The orange color of the bracket matches exactly with the orange ring on the lens mount. The battery door was easily snapped off the camera and snapped onto the bracket and works flawlessly. Love the magnetic Allen wrench holder on the bottom of the bracket so its always there if you need it. Just a very smart setup altogether.
Excellent quality-Kev - 16/03/2019 01:19:13 AM
excellent quality. compared to my old RRS L bracket for my old A7RII, this is as good and way cheaper
Excellent quality l-bracket for my A9-Betsy W. - 11/04/2019 03:25:04 AM
Pleasantly surprised by the quality and it arrived surprisingly quickly too from Vietnam. Looks nice on my A9 too - the orange color matches the Sony lens seat. And of course it fits my Arca tripod plates perfectly. These are clearly machined with some pride and very well designed. Battery door was easily transferred and fit perfectly.
Well worth it-Micheal Pociecha - 09/08/2019 00:58:55 AM
Fits my Sony A7iii perfectly. Well built. Very happy with this one. I had purchased another cheaper brand that didn't fit properly. Glad I spent a bit extra with this one. Well worth it.
Great fit and well made.-Micheal Pociecha - 06/09/2019 12:04:44 PM
Great product. Strong ....fits well. I would recommend it to others. Put it on my Sony a7lll.
Awesome Grip extension-Josh Belt - 20/10/2019 11:09:47 AM
I love this so much. The orange looks awesome on my A7Riii and i really don't notice much of a change in weight. Perfect if you need extra room for your pinky and more grip, and sits flat. So happy with this purchase