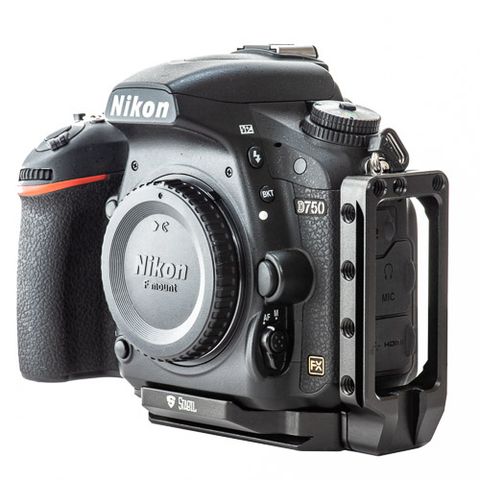 New 2019 Stabil LD750: L PLATES (BRACKET) FOR NIKON D750
Thương hiệu:
Stabil
https://goo.gl/RjfEMv

New Stabil LD750: L PLATES (BRACKET) FOR NIKON D750
---
Thuận tiện trong thao tác chụp ảnh, khi dựng máy đứng sẽ nhanh hơn, chắc chắn hơn và đưa thân máy vào trọng tâm chân máy, giúp quá trình điều khiển thuận tiện và chính xác hơn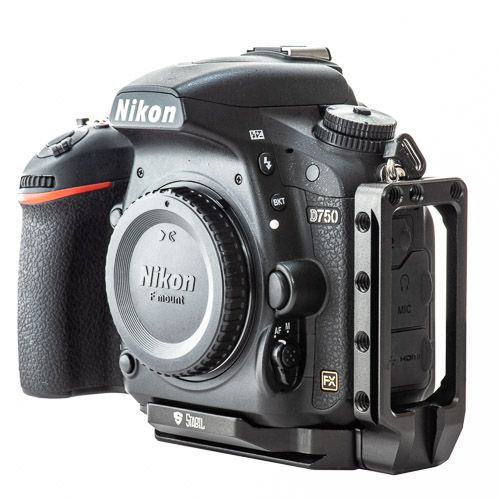 Thiết kế chuyên dụng cho máy ảnh Nikon D750

Trang bị đệm chống trầy và chống trượt giữ cho máy cố định chắc hơn.

Nút định vị L plate với thân máy chống di chuyển xê dịch gây hư hỏng đế máy ảnh

Có thể kết nối các cổng dữ liệu mà không cần tháo rời khỏi thân máy

Kết cấu chắc chắn khi lắp máy khung hình đứng

Chế tạo bằng CNC hợp kim nhôm máy bay 6061 T6 nên rất chắc chắn và siêu nhẹ.

Trang bị nhiều lỗ tiêu chuẩn 1/4"-20 và 3/8"-16 dễ dàng kết nối thiết bị ngoại vi

Tích họp khóa vặn ốc trên L plate bằng nam châm chống thất lạc.

Tương thích với hệ kẹp phổ thông tiêu chuẩn Acca Switch.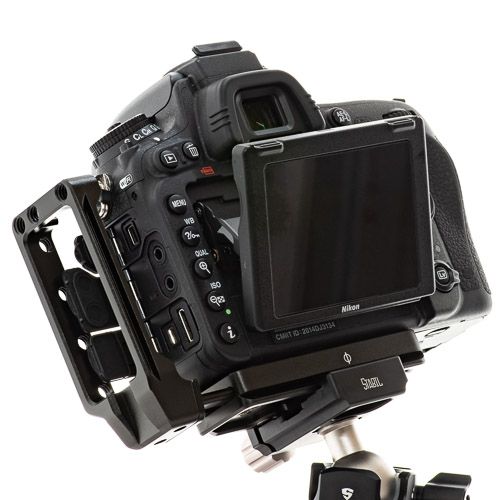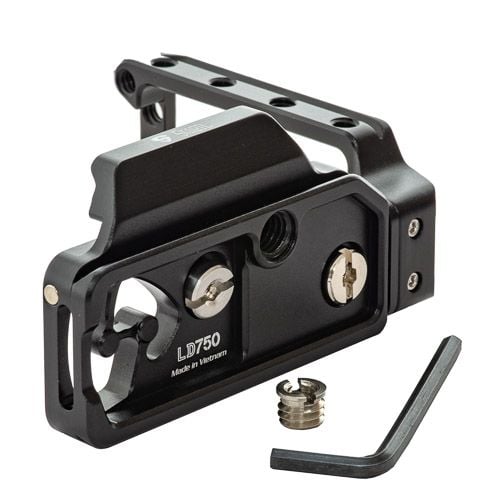 New 2019 Stabil LD750: L PLATES (BRACKET) FOR NIKON D750
---
New 2019 Stabil LD750: L plates are all custom designed for Nikon D750 camera body and precision machined from solid blocks of 6061-T6 aluminum. Stabil LD750 L plates feature precisely contoured anti-twist flanges for a perfect fit that prevents twisting between the camera and L plate with soft matterial. With its Arca-type compatible dovetail, it enables the camera to mount in a vertical or horizontal position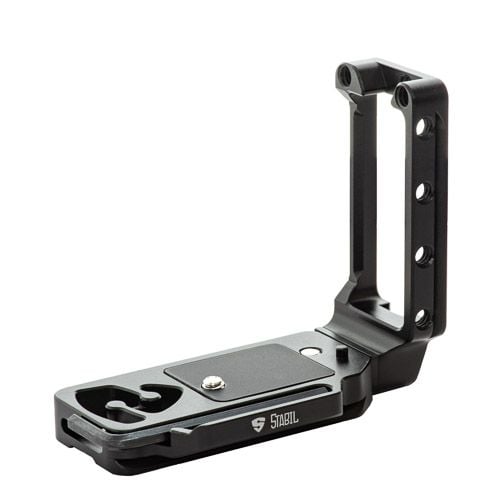 Custom fit with dedicated design for Nikon D750 camera
Soft

Pads on Bottom Plate Eliminate Twisting and protect the camera

Fix screw movation lock body and L plate
Easy access to all cable ports without sliding vertical part
Stable construct when change to vertical orientation
Precision CNC

Machined Anodized T6061 Aluminum Alloy Construction

Multi 1/4"-20 & 3/8"-16 Threads on Vertical And bottom side for accessories (cold shoes, holsters, straps)

Built-in Magnetic Allen Wrench Holder
Compatible with other major manufacturers' Arca-Swiss style clamps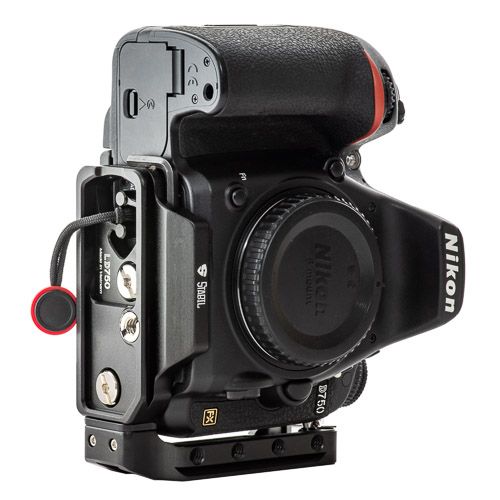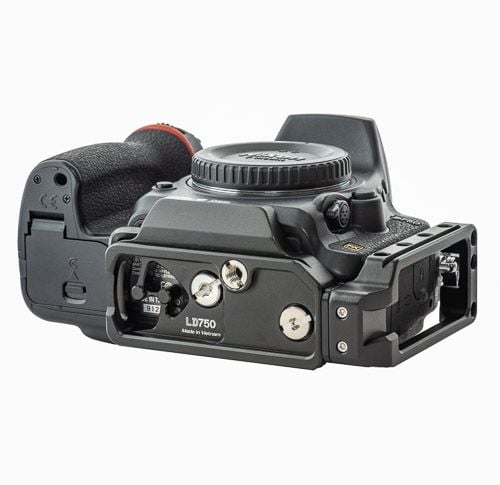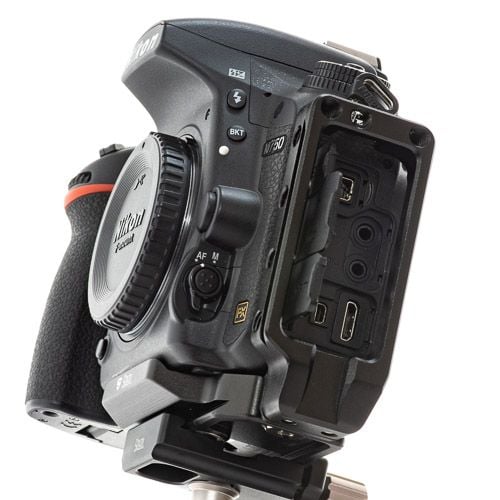 Old Version video
ĐÁNH GIÁ/REVIEWS
Excellent fit on D750-Frankie - 27/01/2019 02:49:03 AM
I got the green "Army Version" as I wanted to differentiate one camera from another at a glance and the usual L-brackets on the market are almost all black in color. Plus I thought it looked cool. It does! This green model has what looks to be an extremely hard anodized surface on it. I got mine direct from the mfr. before they were available on Amazon (they are cheaper here now!) This L-bracket is extremely well made. Comes with hex wrench which cleverly attaches inside/under the base, hidden away but always ready if needed. Fits exactly on D750, with a lip in the front and an extra pin (optional) engaging the base of the camera for extra anti-slip capability. There are multiple 1/4-inch attachment points for whatever you want to hang on it, lights, monitors, etc. Recommended.
Fits my Nikon D750 perfectly-Richard P. Hine - 21/04/2019 12:55:21 PM
Good build fits the camera body. Makes it easy to change the camera orientation for vertical to horizontal and back again easy on a tripod. Fairly light weight but built well. The frame on the side does make it harder to insert the remote plug into the camera. That is my only reservation. A good product.
Fit's the D750 beautifully-Steve Dean - 07/07/2019 20:55:26 PM
This is a very well made bracket. It fits my D750 perfectly. The included wrench that is held in place by a couple of magnets is a really nice touch. I have an actual Arca-Swiss clamp, as well as many copies by other manufacturers. This bracket fits all of them well. A slot for the mounting screw allows you to slide the bracket up tight against the left side of the camera. Or, you can move it further away to allow better access to the ports on the camera. There is plenty of room to open and close the covers over the ports. This leads to my only complaint.
All in all, this L-bracket is as nice as any of the top-of-line brackets I've owned. And, at well under half the price of those units. It's worth the little extra cost to have a precision-fit bracket, like this one, for each camera, as opposed to a universal-fit bracket that may twist on the camera and/or cover important portions of the camera. This bracket gets gold stars on all merits that are important to me.
One of my better purchases!-Martin Sauer - 22/07/2019 16:05:49 PM
This has worked out better than I expected and I should have bought it sooner. Contrary to the previous reviewer, this fits a D750 perfectly without interfering with any of the ports ... period.
I haven't held a RRS L-bracket so I can't compare them directly but this bracket works so well I can't imagine paying that much more for one of theirs. I've been a landscape and flower photographer for 50 years. Frequently moving from horizontal to to vertical on a tripod can be a pain in the rear, even with an arca-swiss quick release tripod head. I found myself not taking the shots because it seemed too much of a hassle at times. I didn't anticipate how much this L-bracket was going to help. I find myself quickly flipping to vertical a lot more often now.
One final note: I feel the bracket offers a bit of additional protection to the bottom and left side of the D750 which might make a difference in the case of a mishap.
I say, if your serious about your photography, buy it.
Good quality, if a bit pricey-Rex D. Matthews - 11/01/2020 23:18:58 PM
The bracket has worked perfectly for me for mounting my D750 both on my Sirui monopod with Wimberly Monogimbal head and on my new Fotopro E6L tripod and E6H head (which I absolutely love and highly recommend). I really like the fact that the bracket comes with an Allen wrench of the correct size in a magnetic holder. One does need to remove the Allen wrench on order to open the door to the camera's battery compartment, but that's a very minor issue for me. An important consideration for me is that this bracket has appropriate attachment points for Peak Design anchors, because I always keep the Peak Design Clutch hand strap attached and add a Peak Design Slide strap when needed. I also appreciate the etched centering marks on the bracket, which help with alignment. I've experienced no problem with materials quality. It is a bit pricey compared to some other options, but on balance I'm glad I selected this one, and it gets five stars from me.