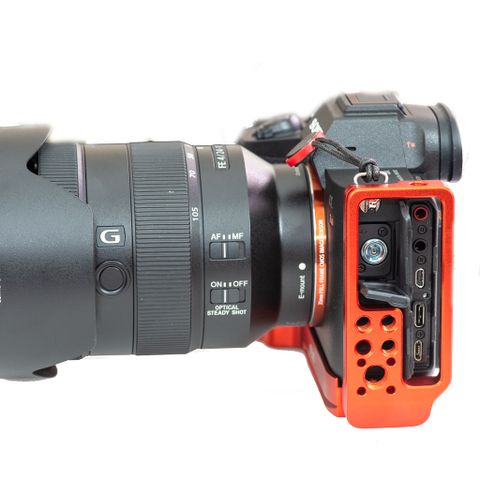 Stabil LSIV - L Plate (Bracket) for Sony A7RIV
Thương hiệu:
Stabil
http://b.link/LSIV

Stabil LSIV - L Plate (Bracket) - Đế máy ảnh L Plate cho for Sony A7RIV - A9II
---
Đế máy ảnh L Plate Stabil LSIV được thế chuyên biệt cho Sony A7RIV và A9II làm chính xác bằng hợp kim nhôm T6-6061. Đế máy ảnh LSIV được thiết đặc biệt vừa khít với thân máy cùng mới lớp đệm mềm giữa LSIV và thân máy nên hạn chế sự dịch chuyển tối đa, chống trầy và tạo độ vững chắc hơn. Ngàm kết nối dựa theo tiêu chuẩn Arca phổ biến nhất hiện nay, có thể lắp thuận tiện theo chiều ngang lẫn chiều đứng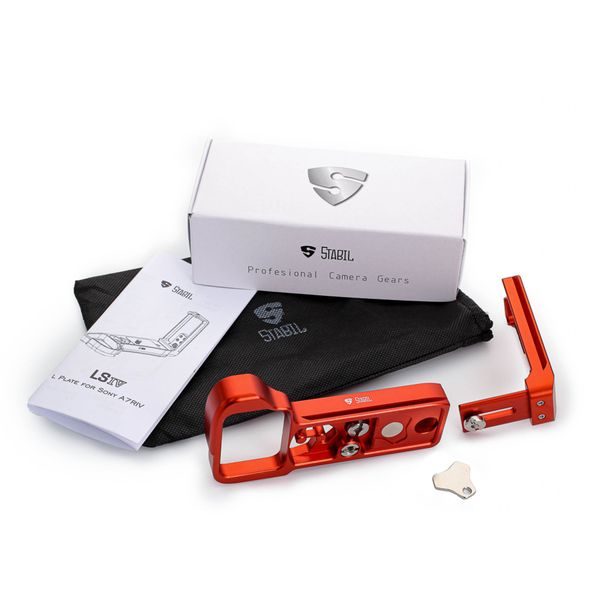 Thiết kế chuyên biệt cho thân máy Sony A7RIV A9II
Gia công bằng hợp kim nhôm máy bay và anode hóa màu sắc trên bề mặt
Kết cấu khi xoay máy đứng rất chắc chắn
Màn hình xoay lật không cần tháo gá đỡ
Cạnh hông có thể di chuyển rời ra để thao tác kết nối dễ dàng hơn
Trang bị các kết nối ren tiêu chuẩn 1/4"-20 và 3/8"-16 ở dưới đáy và bên hông để lắp thêm phụ kiện
Kết cấu nam châm cài đặt chìa khóa dính trên L plate
Tương thích với ngàm theo tiêu chuẩn Arca-Swiss
Ốc chuyển đổi lỗ kết nối 1/4"-20 và 3/8"-16 theo nhu cầu sử dụng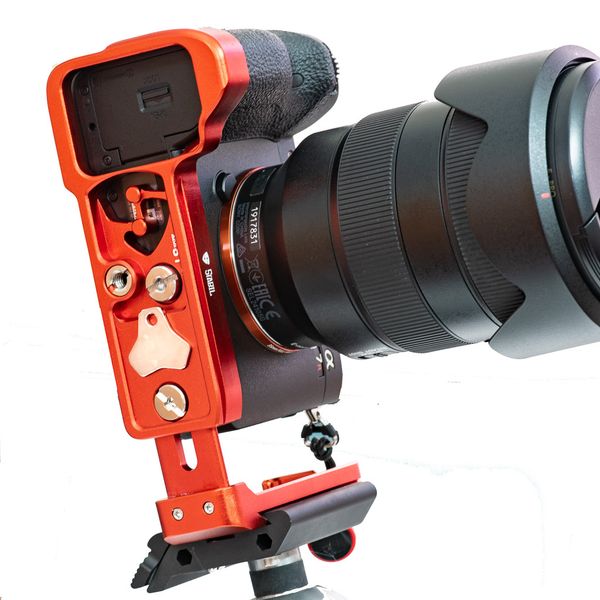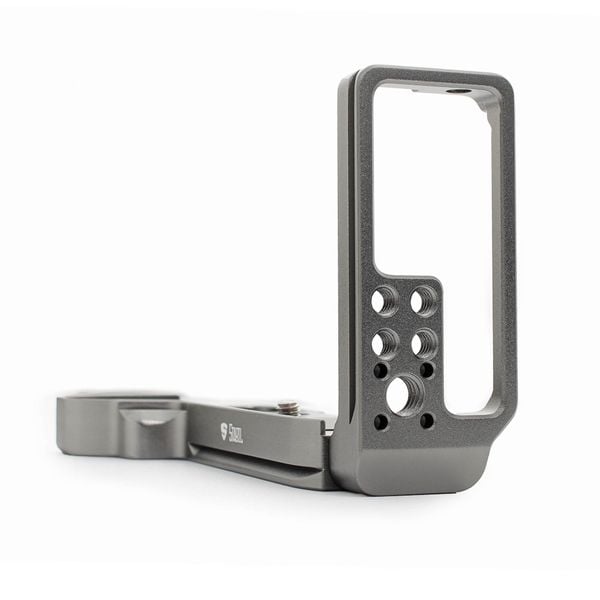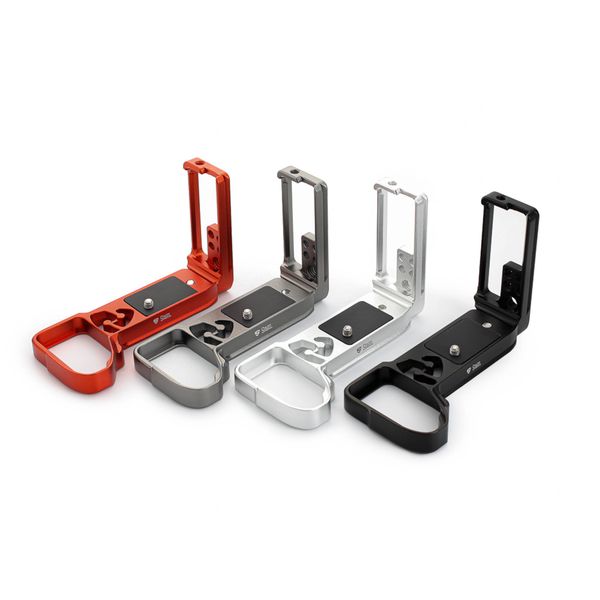 Đế LSIV được thiết kế để màn hình có thể xoay lật mọi vị trí, dễ dàng lấy pin tương tự như bản gốc, có lỗ ốc tiêu chuẩn 1/4"-20 và 3/8"-16 (có thể chuyển thành 1/4"-20) ở dưới đáy và bên hông, có đánh dấu vị trí tâm cảm biến (sensor) ở cả hai chiều ngang và đứng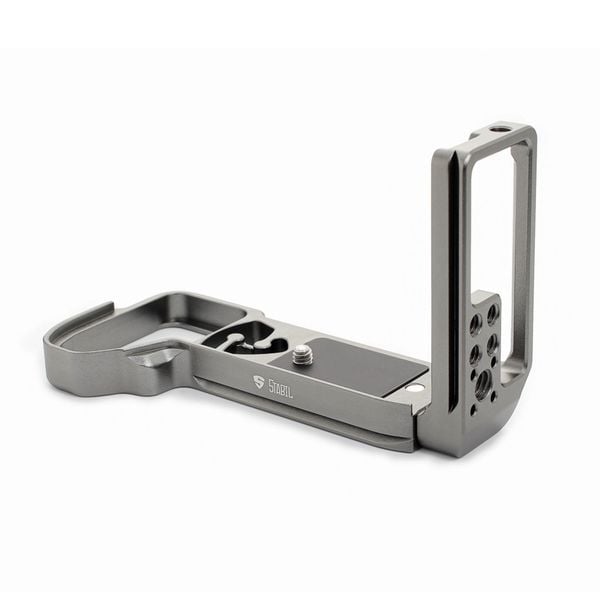 Dành cho A9II: Thanh đứng tiết giảm đi 2 lỗ ốc 1/4"-20 giành khoảng không cho cáp nối:
Stabil LSIV L plates are all custom designed for Sony A7RIV - A9II camera body and precision machined from solid blocks of 6061-T6 aluminum. Stabil LSIV L plates feature precisely contoured anti-twist flanges for a perfect fit that prevents twisting between the camera and L plate with soft matterial. With its Arca-type compatible dovetail, it enables the camera to mount in a vertical or horizontal position.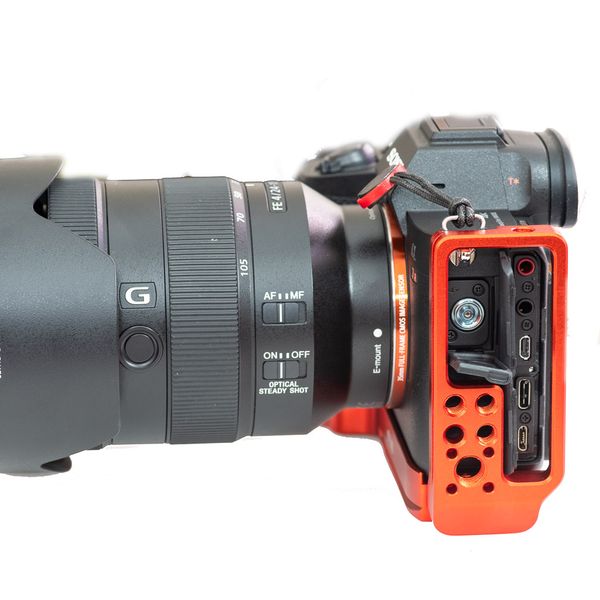 The Stabil L plate LSIV does not block the LCD monitor from tilting, it easy access to the battery door as original design, a 1/4"-20 and 3/8"-16 (can be convert to 1/4"-20) mounting hole is located on the bottom and sensor centering lines are on the back, so the camera can be aligned on a tripod head.
Custom fit with dedicated design for Sony A7RIV - A9II camera

Made of aviation aluminum alloy which has been anodized Stable construct when change to vertical orientation

Free moving monitor without remove L plate

Vertical part can be slide out for more flexible connection

Extra 1/4″-20 and 3/8"-16 hole for extension equipment.

Built-in Magnetic key holder

Compatible with other major manufacturers' Arca-Swiss style and Cullmann clamps

Interchange 1/4″-20 and 3/8"-16 screw for flexible conecction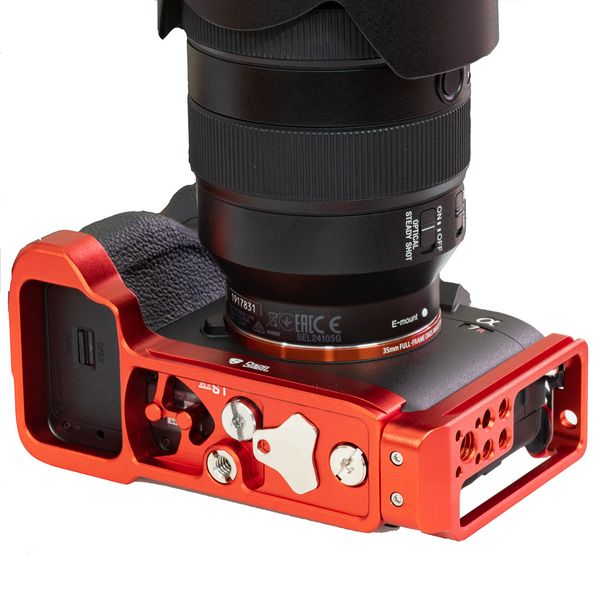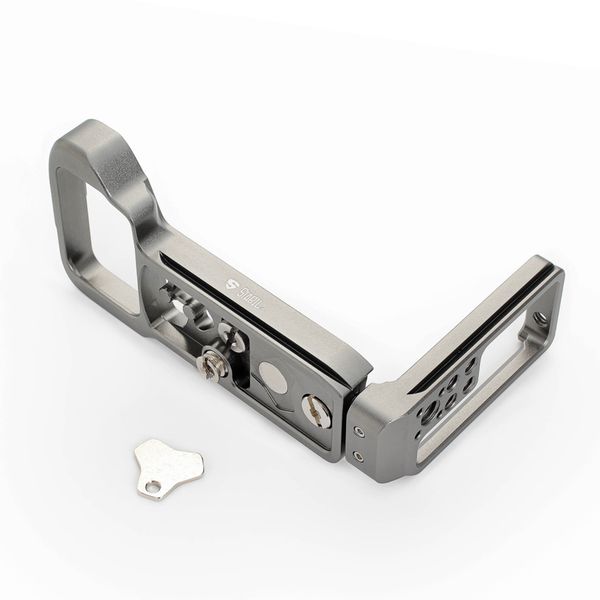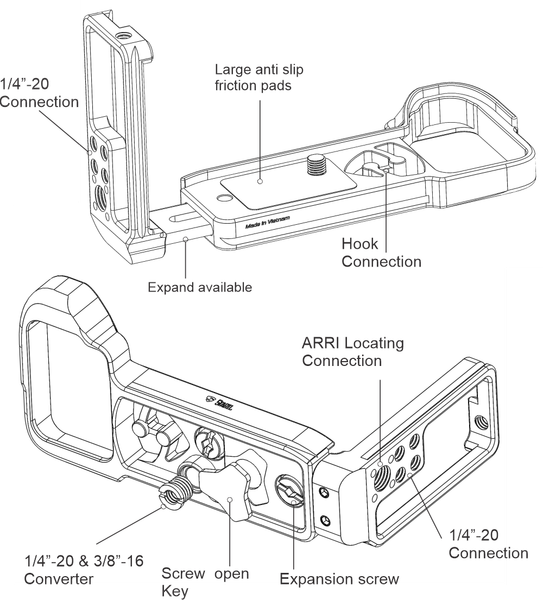 For A9II: reduce 2 of 1/4"-20 holes for connection cable: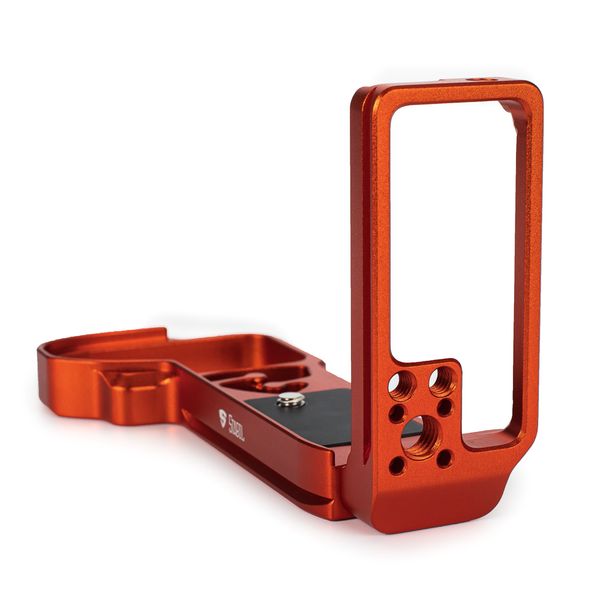 https://youtu.be/Mvz-MLbcIeI
ĐÁNH GIÁ/REVIEWS
High Quality, Sony Orange Color-T. Phillips - 20/09/2019 01:56:37 AM
Nice item. Just as high quality as smallrig. Fit is perfect. No issues. Nice layout and love the tool magnetically held to the bottom. Magnet is strong. We'll see if it holds? The item color is "Sony orange" even though the picture looks red. Only thing I wish is that the smallrig L bracket handle would fit this item or Stabil would make a handle
preserves batt door's dust sealing-raph - 16/10/2019 11:53:58 AM
Improved drastically my grip and comfort when handling the A7R4. I have large hands (can't handle an A7R3) and holding the camera with only 3 fingers. Makes the body rest in a stable part of the palm instead of at the base of the thumb structures which destabilizes the camera when handling buttons /wheel. The body's dust sealing integrity of the battery compartment is preserved as the battery door does not need to be relocated, unlike with other brackets
Pros: much better handling, battery door dust sealing's integrity preserved, well build, no obstruction of the port doors on the left side of the body
Cons (no biggy, all minor): slippery metal where the pinky rests (could have been patterned or rubberized), almost stripped the thread of the hole for the L bracket screw (soft metal, be careful), zone around the 1/4" screw insert is not flush w rails which slightly tilts forward small quickplates (making a tripod level unusable)
Works perfectly on my Sony 7R4-Carson - 01/11/2019 11:06:08 AM
Works perfectly on my Sony 7R4. Well made
Excellent quality-Yervant - 01/12/2019 14:05:09 PM
Works as expected. Excellent quality
Perfect L-bracket for my A7R4-Jeffrey R Bondono - 18/12/2019 11:22:00 AM
I have a black Stabil LSIV, and it's perfect. I screwed it onto the A7R4 the day I received it and it's been on ever since then. All camera doors work perfectly with the L-bracket attached, and it works on my tripod perfectly with wired shutter release plugged in, in both landscape and portrait orientation. It hasn't required re-tightening, but if it ever does the coin-like screwdriver magnetically attached to the bottom will come in handy. (No, it hasn't fallen off). A small lip along the front edge of the L-bracket keeps it squared-up perfectly with the camera body, making the pair feel extremely solid, like a single unified piece. The bottom of the bracket is perfectly flat so the camera rests well on a table with no wobble. I give it my highest recommendation.
Good value.-Michael J. Cohen - 30/12/2019 16:25:52 PM
Excellent functionality. I like the reddish orange but the color comes off. Nice magnetized tool and tripod adapter included. Deserves a 4.8.
Works great and looks great!-Beachhead - 11/01/2020 23:11:19 PM
Color: OrangeVerified Purchase
I have been using this l-bracket extensively since the day i received my Sony A7R IV. It fits perfectly and is very well machined, giving it a solid feel on the camera.
I attach my strap to the mount screw hole in the bottom of the bracket which is reinforced with steel.
Additionally, the orange version is a nice change from the standard black and looks seriously cool on the camera.
Passt genau und ist gut verarbeitet-Alfred Pohl - 19/02/2020 11:31:17 AM
Passt genau und ist gut verarbeitet, alle Teile (Schrauben etc.) sind vorhanden. Einschränkungen bei der Montage an Stativköpfen System Arca-Swiss konnte ich nicht feststellen. Der Sitz (Halt) am Stativkopf Arca-Swiss ist perfekt und sehr Stabil sowohl vertikal als auch horizontal
La mejor L Plate que he probado-Gregorio García - 19/02/2020 12:05:03 PM
La mejor L Plate que he probado, he comprado varias y esta es la mejor: encaja perfectamente, se puede abrir el compartimento de baterías con ella puesta, y si le pones una cinta adhesiva rugosa en la parte inferior de la empuñadura tiene un muy buen agarre, dentro de las limitaciones de empuñadura que tienen las Sony A7. En calidad comparable a las Really Right Stuff
Awesome product!-Rudy Ramirez - 23/02/2020 21:11:52 PM
Best product for the money! Very sturdy, very well built and fits perfectly. I shoot Luxury Automotives and I'm on and off my tripod frequently. This has a great feel in your hand and is an excellent addition to my camera.